Let Light Readers Light Up Your World!
Light Readers, illuminated reading glasses from The Reading Glasses Company, London, make it easy to read, work or play in the dark.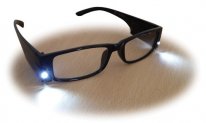 Whether it's a bedtime story, a night-time page-turner or a menu in a candlelit bistro, reading in poor light can be a nuisance, especially if you require reading glasses. And there are many other activities where dimly-lit rooms, nooks and crannies can make life difficult – changing that fuse in the cupboard can take up both hands leaving you searching for places to balance the torch!
Light Readers feature two powerful LED lights, designed specifically to compensate for bad light, in any environment. Available in six dipoters (strengths) to suit your eyesight needs, LightReaders are sleek, stylish and comfortable. When they're turned off nobody will even know they have LED lights built-in!

Tradesmen such as plumbers, electricians and carpenters will wonder how they managed without these light-up glasses, and our LightReaders reading glasses will also find favour with hobbyists, from stamp collectors to embroiderers.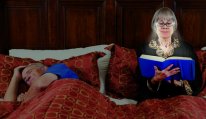 Light Readers are supplied with TWO sets of batteries, so there's no need to think about spares for a while. And at only £5.99 including FREE UK post and packaging, you can afford a spare pair too!
You can check which diopter is best for you here.
Light Readers are available here with FREE UK p&p! And don't forget to check our sun readers too!