UV Sun Readers Easy On The Eye For Daily Express!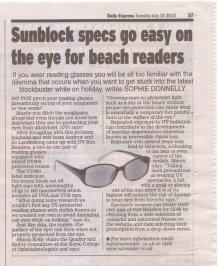 Today, the Daily Express discusses the importance of protecting our eyes from ultraviolet rays, and the dilema faced by many of us - do we take off our UV protecting sunglasses on the beach and pop on our regular reading glasses so we can get stuck into our favourite novel (and potentially risk damaging our eyes)?
The article describes how UV Reader was founded to solve this very dilema, lauching a range of UV Sun Readers that offer UVA and UVB protection while reading on the beach (matching UV Readers are also available for reading indoors). Priced at only £5.99, UV Sun Readers (and UV Readers) are great value. Twin packs also available at only £9.99. The essential holiday accessory this summer!